To maintain its brightness, colored hair requires specific attention both in the immediate post-coloring phase and in daily maintenance.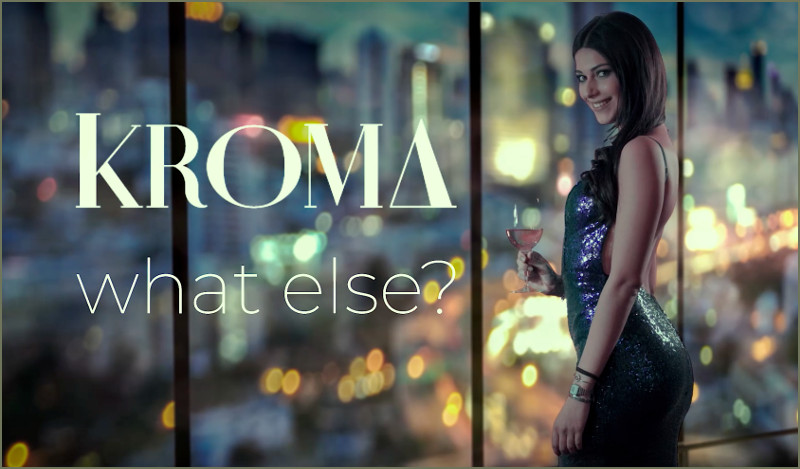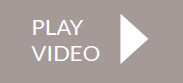 ---
THE HEART OF
KYO KROMA
Luminescine gives light and brightness to dull and/or dry hair. Extracted from the mullein flower, typical of the Mediterranean area, Luminescine can absorb potentially harmful UV radiation and turn it into a new light source. It acts as an antagonist of photo – oxidative stress and accentuates brightness of the color.
Vegetable keratin smoothes the cuticles and closes the scales protecting from external aggressions. Reduces split ends and breaks, preventing frizz and restructuring treated hair. Adjusts the hair structure, making hair soft, silky and easy to comb.
Hemp extract is rich in Omega 6 and Omega 3, amino acids, mineral salts and vitamins, it moisturizes, nourishes, reduces itching and inflammation and strengthens hair after chemical treatments. It protects from free radicals by performing an effective antioxidant action for a long- lasting color.
A spice with numerous beneficial properties, ginger stimulates the microcirculation of the scalp, bringing nourishment and hydration to hair and enhancing natural reflexes and their shine.
revolutionary active ingredient<
captures UV rays<
turns them into brightness<
Riduce le doppie punte e le rotture<
Regola la struttura dei capelli<
ricco di Omega 6 e di Omega 3<
Protegge dai radicali liberi<
stimola la microcircolazione del cuoio capelluto<
idratazione dei capelli<
---
KROMA
keeper
KYO KROMA KEEPER product range has been formulated to finalize, perfect and guarantee the optimal performance over time of KYO and KYO LUMEN coloring services.
SHAMPOO
KYKR01/03
KYOKROMA shampoo
KYO KROMA KEEPER multi-protector shampoo for colored hair, keeps the color bright and vibrant, protecting the hair fiber and making the hair soft and restructured. Enriched with Keeper Complex (Luminescine, keratin and organic hemp and ginger extracts) prevents the opacification of the fiber, prolonging and sublimating the brilliance of the color.
How to use it: apply to wet hair, massage and rinse. Repeat if necessary.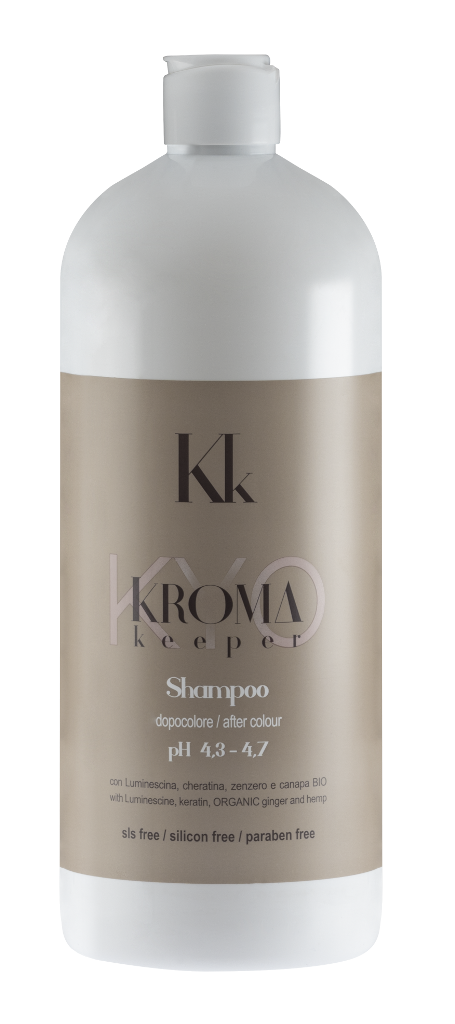 1000 ml
250 ml
SLES FREE
SILICON FREE
PARABEN FREE
pH 4.5

KYKR01/03
MASK
KYKR04/06
KYOKROMA Mask
KYO KROMA KEEPER mask seals and preserves the intensity of the color. Enriched with Keeper Complex (Luminescine, keratin and organic hemp and ginger extracts) protects from oxidation and aggression from external agents, offering hair the specific nourishment they need for a soft and elastic result and an intense and brilliant color.
How to use it apply the product to washed and towel-dried hair. Comb. Leave in for 3-5 minutes. Rinse thoroughly.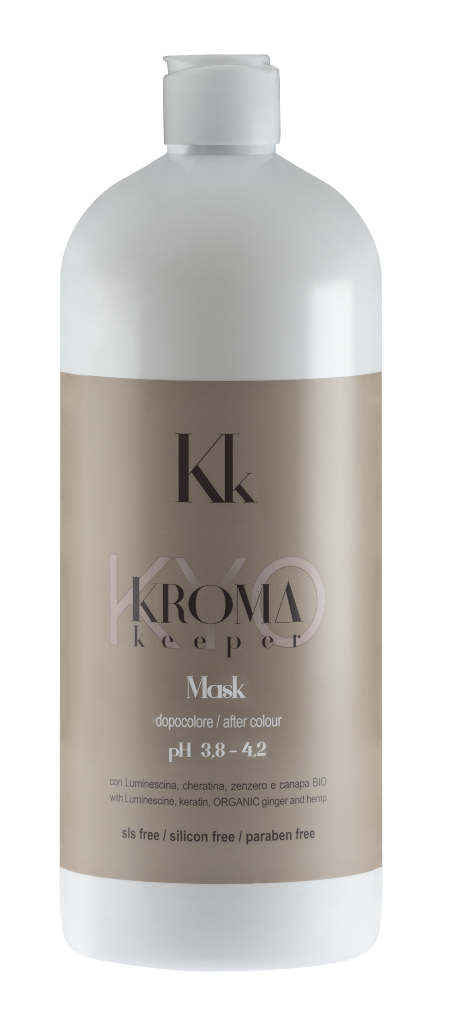 1000 ml
250 ml
SLES FREE
SILICON FREE
PARABEN FREE
pH 4.5

KYKR04/06
GLITTERING MIST
KYKR07
KYOKROMA Glittering Mist
KYO KROMA KEEPER glittering mist counteracts static electricity and improves combing, intensifying and bringing radiant shine to the hair. Enriched with Luminescine, keratin and organic hemp and ginger extracts, gives softness and assures the correct water balance to the hair.
How to use it: spray a light amount at approx. 20-30cm from hair as a finishing product. Do not rinse.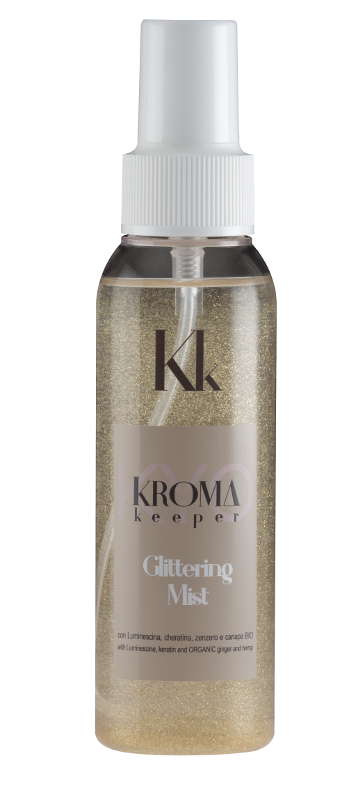 ENHANCES
INSTANTLY THE BRIGHTNESS OF THE COLOR
MINIMIZES
COLOR FADING AT EVERY USE
IMPROVES
THE CONTRASTS OF LIGHT AND REFLECTIONS WITHOUT WEIGHING DOWN THE HAIR
NOURISHES
THE HAIR FIBER AND GIVES GREATER ELASTICITY AND SILKINESS TO THE HAIR
GIVES
NEW SHINE TO BOTH COSMETIC AND NATURAL COLOR
---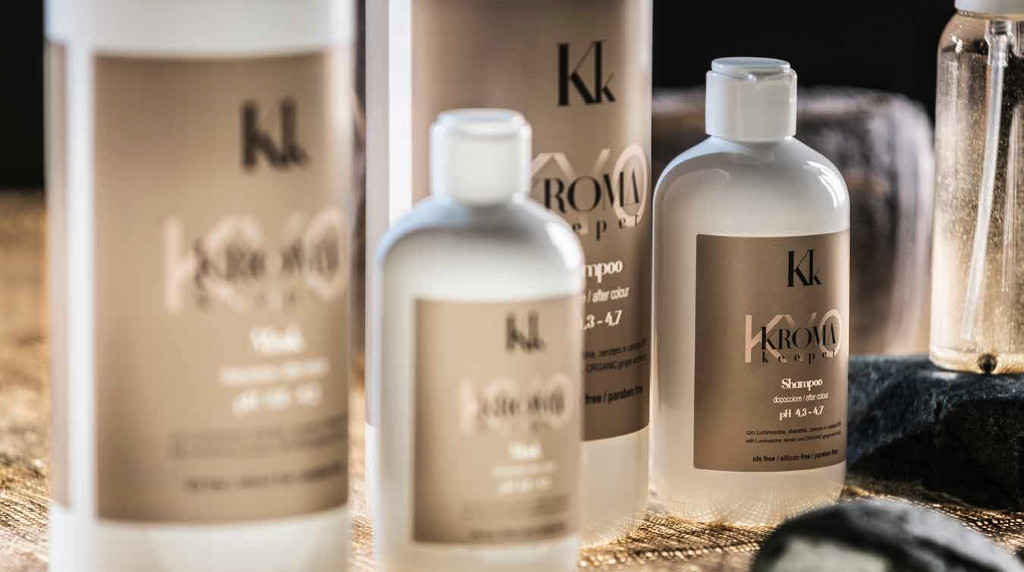 ONLY FOR YOUR
HAIR
COLORED
THE BRIGHTEST COLOR YOU NEVER
Thanks to their delicate formula and the active biological ingredients present in them, KYO KROMA products are a valid ally for all types of hair and for every type of coloring.
---
Torna in alto