KYORGANIC
ALL-NATURAL HAIR CARE
KYORGANIC is a line that finds inspiration in nature and that develops, with its formulas, textures and packaging, the concepts of sensory and naturalness.

KYORGANIC gives a break of relaxation and wellness to your hair, a leisure break from the stress of everyday routine.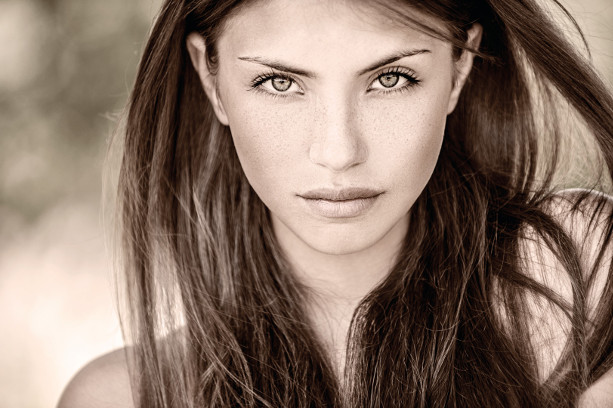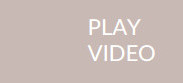 THE HEART OF KYORGANIC
KERAGREEN COMPLEX
Keragreen Complex is a concentrated blend of keratin proteins, natural oils and organic ingredients that acts compensating the missing components and restoring the natural health of skin and hair.
BAMBOO
Highly re-mineralizing is an excellent tonic for dry hair. Thanks to its nutritional rebalancing and sebum normalizing properties, is an effective remedy for soft and healthy hair.
BLACK TEA
Rich in precious substances (vitamins, trace elements, minerals, amino acids), and due to the high presence of polyphenols, antiradical able to counter the effects of time, is a great energizing, invigorating, refreshing for skin and hair.
BAOBAB OIL
Real concentrate of vitamins, amino acids, fatty acids, Baobab Oil is a natural moisturizer, capable of restoring the correct elasticity and natural softness of the hair. Excellent anti-inflammatory, it fights irritation, flaking and dryness of the scalp, carrying out a calming and soothing action.
---
Discover
KYORGANIC UNIVERSE
Tre prodotti per un rituale energizzante, detossinante, nutriente. Shampoo, Conditioner ed Elixir per un capello dall'aspetto sano tutti i giorni.
SHAMPOO
KYOR01/03
KYORGANIC shampoo
KYORGANIC body-giving, rebalancing shampoo without SLS / SLES, formulated with functional biological ingredients, with regenerating action. Enriched with Bamboo, Black Tea, Vegetable Keratin it ensures cleansing, nourishment to skin and hair. Its gentle formula makes it ideal for daily cleansing.
How to use it: apply to wet hair. Massage for a few minutes. Rinse thoroughly. Repeat if necessary.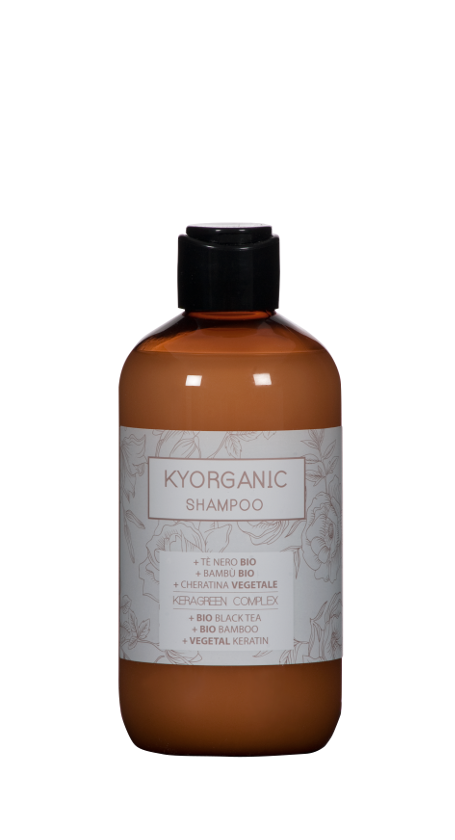 CONDITIONER
KYOR04/06
KYORGANIC Conditioner
Formulated with functional biological ingredients (Bamboo, Black Tea, Vegetable Keratin), KYORGANIC rebalancing conditioner purifies and moisturizes, restores skin and hair proper hydration. Restorative, soothing and invigorating, it makes hair soft and manageable.
How to use it: apply to towel dried hair, lengths and ends. Comb. Leave in for 3-5 minutes. Rinse thoroughly.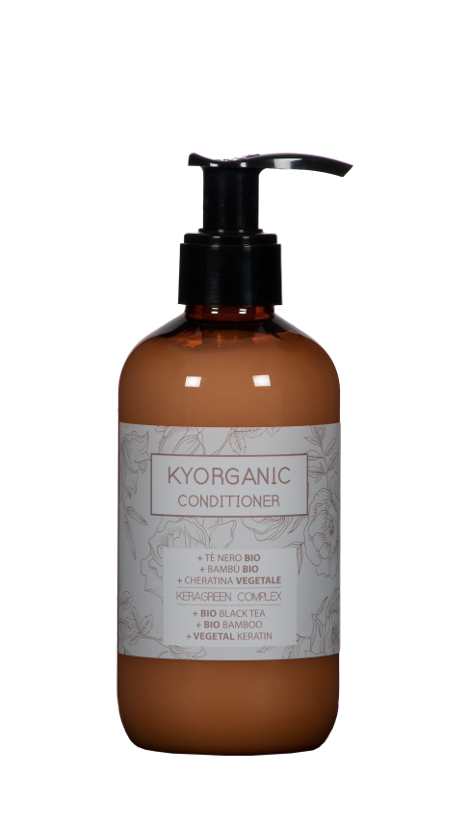 ELIXIR
KYOR07
KYORGANIC Oil Elixir
KYORGANIC Elixir with functional biological ingredients such as Black Tea, Bamboo, vegetable Baobab oil and keratin. It protects against physical and mechanical stress, moisturizes, nourishes, and prevents split ends, giving vitality and shine to dull hair and making it silky and without weighing it down.
How to use it: apply a few drops to wet or dry hair. Do not rinse.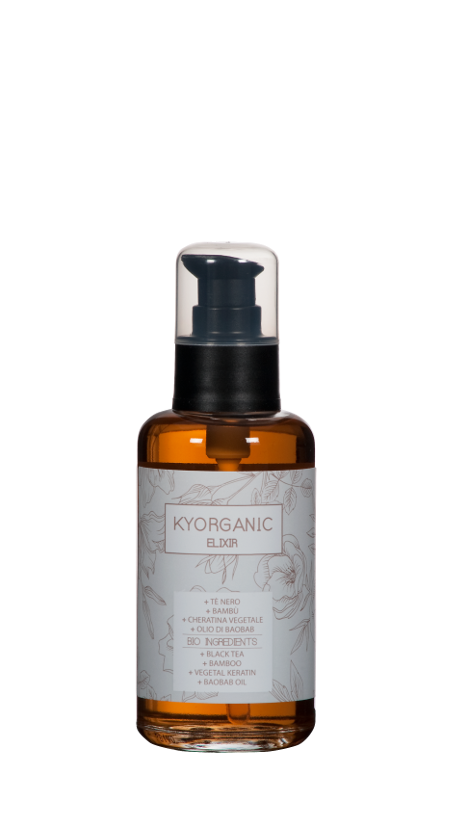 MULTI ACTIONS
Soothing, derma-soothing
Rebalances lipids and carries out a detoxifying action for skin and hair.
Nourishing, Energizing
Restores proper hydration, nourishes in depth.
Emollient
Makes the hair manageable and easy to control, gives a luxurious and intense softness.
---
DO YOU FEEL KYORGANIC?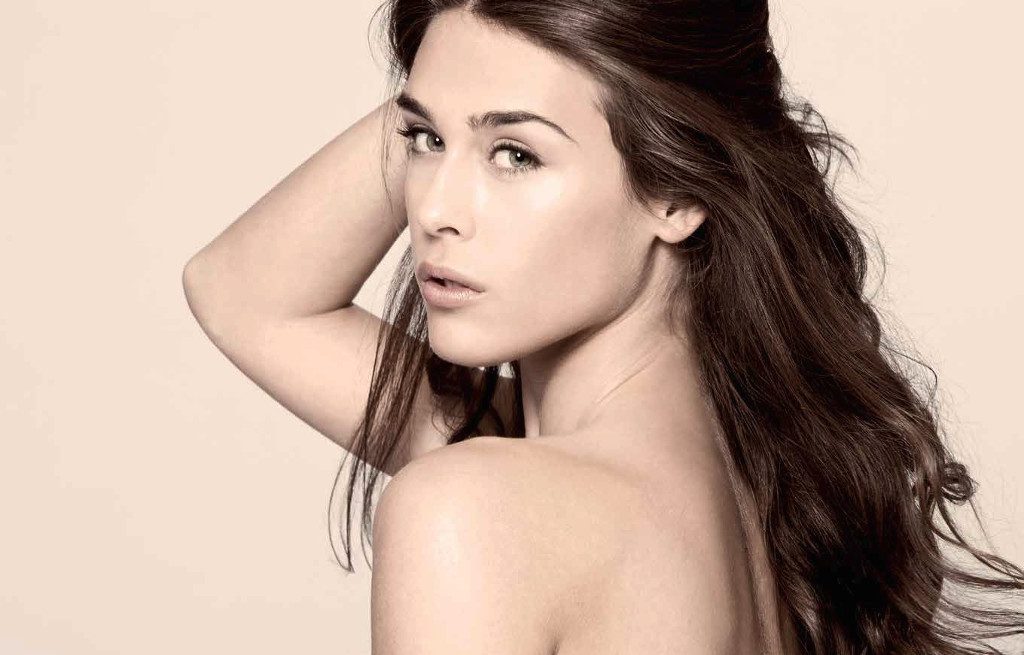 Principi attivi d'eccezione, certificati, biologici, dermocompatibili, per un trattamento riequilibrante e detossinante in grado di assicurare un rinnovato tono a cute e capelli. Un rituale di bellezza dalle note vitali ed emozionali.

Grazie alle formule delicate e naturali, KYORGANIC è un trattamento di cura e bellezza quotidiana adatto e indicato per ogni tipo di capello.
---
LIVE THE EXPERIENCE
the Olfactory Pyramid
The bouquet of the line is a composition of flowery, fruity, spicy and woody notes.

Warm, balsamic, intense but delicate notes. Voluptuous, relaxing, picturesque, evocative aromas, for a relaxing and refreshing sensory experience.
Saharian Night opens with a fruity touch of White Peach and the flowery and innocent accents of Rose and Nerolis. The heart marries the rich and invigorating verve of Tonka beans with sensual notes of amber. Cardamom and Patchouli, in the base notes, express an assertive and energetic personality.
---
Torna in alto